from the Villa Assisted Living Care Team
Talking to Your Parents About Assisted Living
Starting the Conversation
How to start the conversation with your aging parents about assisted living? This article discusses the importance of talking to your parent about assisted living, the types of questions to ask, and how to make the conversation easier. As our parents age, it can be difficult to think about the best way to ensure their safety and well-being.
Hope these tips below will provide some peace of mind for both you and your parents as you navigate through this delicate period in your life.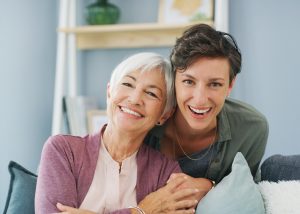 Considering a move to Assisted Living? Our needs change as we age. Are you in the right place?
FREE EBOOK
Download our FREE ebook. This guide will help you assess your current living situation and see if assisted living is an option for you.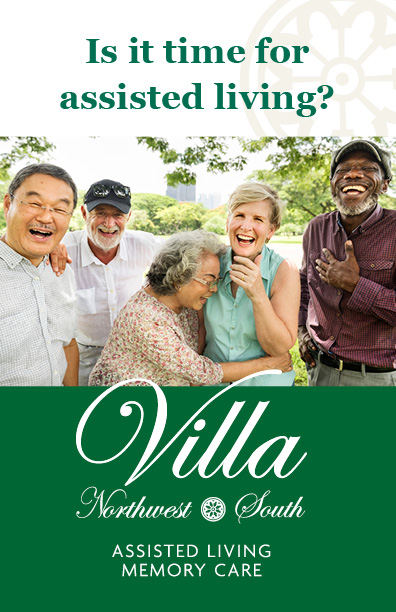 Educate Yourself
Once you learn about senior living options, you'll be in a better place to evaluate what will work best for your parent.
It's ok to visit communities on your own so you have a realistic sense of senior living benefits and be able to understand any drawbacks.
By

learning about assisted living,

you will be informed about the positive aspects of long-term assisted living care.
What Is Assisted Living?
Assisted living

is

a type of housing and care community for seniors and other adults who require assistance with daily living tasks
Services provided often include meals, medication management, and assistance with activities of daily living
24-hour nursing staff are typically available
Initiating the Conversation
Begin the discussion well before your parent has a serious illness requiring an intervention.
Be mindful of your loved one's feelings and be prepared to answer questions
Acknowledge that it can be a difficult decision, and let them know that you are available to help
Discuss the advantages of assisted living and how it can help maintain independence
Benefits of Assisted Living
Offers assistance with daily tasks, providing peace of mind
Socializing with other residents and engaging in activities
Access to medical care and services that may not be available at home
Click to learn about the benefits of assisted living
 Tips for a Successful Discussion
Respect your loved one's decision and feelings about the issue
Be patient, and be prepared to answer any questions they may have
Consider visiting an assisted living facility together to get a better understanding of what it would be like to live there
Remember, it's their decision. Unless your parent is unable to care for themselves, let them know you will respect their final wishes. Make sure they know you love them and have their best interest in mind.
Why Not Enjoy These Benefits Today?
CALL US TO DISCUSS
Your well-being, safety, and quality of life are important Is it time to have a discussion with your family?
To receive a personal complimentary assessment of your current living situation, your health, safety and lifestyle needs, call  Executive Directors Patricia Torres (Villa South) at 361-991-3252 or Tonda Johnson or Dana Anderson        (Villa Northwest) 361-242-9446 or email

 

South@VillaAssistedLiving.com.
Looking for More Resources?
Download our Free Guide to Help Assess  your Situation
and the Benefits of Assisted Living
A community for where you are now, and for changing needs in the future.