Is Now the Right Time for Assisted Living in Corpus Christi?
By StoryStudio February 17, 2023 8:34 AM
Assisted living is still affordable for most families, but inflation could send costs up over the next few years. Get educated today to save disappointment later. The Villa communities in Corpus can help you answer 5 questions that you might not have thought to ask.
Which community is best?
Senior Care has shifted from institutional nursing homes to more comfortable assisted living communities. These communities offer a range of lifestyles and care levels, from "Ritz and Glitz" independent living to "warm and comforting" Alzheimer's memory care. The specific care needs of a senior, and how these may change over time, are usually the first criteria for finding the right community.
Affordability is usually the second criteria. One of the benefits of assisted living communities is that they provide a valuable social connection for residents, and social fit is often a third key criteria. Executive Director Patricia Torres at Villa South 361-991-3252 can help you understand the options available for senior care.
Is government funding available?
Most government funding for senior care is for institutional care in nursing homes. Fortunately, Villa Northwest is one of the few communities in Corpus that participate in a special "waiver" program to allow qualified seniors to get a subsidy for the assisted living services that they prefer.
 But the waiting list for acceptance in the 'waiver' program is currently almost three years. Sara Contreras at Villa Northwest (361-242-9446), can explain the qualifications for the assisted living waiver program, and help you make the application. With a long waiting list, it makes sense to get started today.
Do seniors "give up" independence?
Assisted Living residents find a noticeable improvement in their quality of life when moving to the Villas. It can be like a college dorm with friendly neighbors in the hallway that also socialize in a community dining room.
Residents get a supportive living setting with meals and housekeeping that makes it easy to be more socially engaged and active. Family members are freed from obligations of supporting maintenance and housekeeping needs after a resident moves to the Villa.  Our Admissions Director, Joseph Perez at Villa South (361-991-3252), can explain how independent seniors benefit from assisted living.
What is the support for health and wellness?
Villa Assisted Living brings an extraordinary benefit of healthcare coordination to a residential living setting. Every resident has an individual care plan that is created by licensed nurses with input from the resident's personal doctor. Most Villa residents have doctor groups that can visit them at their Villa apartment, which allows even closer care coordination. This is especially valuable for Villa South memory care residents.
Seniors can sometimes have a confusing array of medications which are difficult for them to track. Villa staff remind residents to take the correct medications, at the right times, and can place orders for refills or changes. This medication management can allow a quick improvement in health for many residents when they move in.
Having full time licensed nurses on site allows for daily monitoring of healthcare issues or concerns. This provides a substantial "peace of mind" benefit for family members who worry about the health situation of a parent.  And it can also provide the "flip side" benefit for seniors who don't want to be nagged by worrying children.  Executive Director Tabetha Garcia at Villa Northwest (361-242-9446) can address this substantial health benefit.
Considering a move to Assisted Living?
FREE EBOOK
Download our FREE ebook. This helpful guide will help you and your family make decisions about your long-term care needs.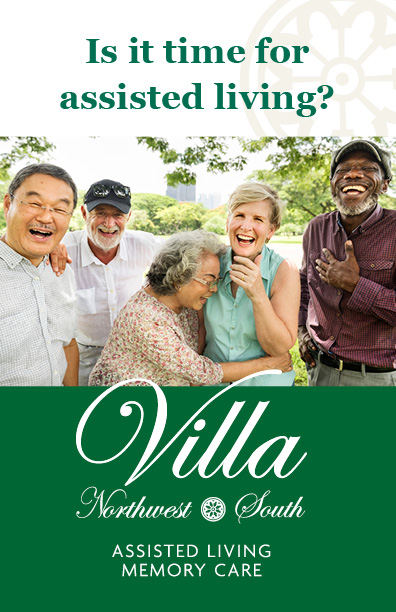 Can residents keep their dignity with personal care needs?
Some of the personal care needs for seniors can be embarrassing and may lead them to avoid wanting to talk about assisted living options at a time they are most needed. For the care giving staff at the Villas, assistance with very private needs is a normal part of their daily work.
The staff can help residents manage 'accidents' of bowel or bladder incontinence and assist with bathing and dressing. They redirect residents who forget how to get back to their apartment or mistake the time of day and understand these are sensitive concerns for residents and are able to take care of these types of needs without a fuss, to preserve the dignity of all residents.
The Villas also know that assistance with personal hygiene of toileting can prevent more serious health problems like urinary tract infections, and so they are an important part of the Villas mission of providing quality care. Melinda McNabb, LVN at Villa South (361-991-3252), can discuss the range of personal care services available and can also address staff selection and training standards to promote dignity.
Limited-Time Special Offers are available
Personal connections make a big difference in a successful move to the Villas. The activity directors, John Soto at Villa South and Sue Swinney at Villa Northwest, help new residents connect with existing residents who share common interests.
To reinforce the benefits of personal connections, the Villas have two special offers for residents who move in with a spouse or in conjunction with a friend.
For spouses sharing a large studio, they will provide a 50% discount to the normal monthly fee for the first 6 months of occupancy for the 2nd resident.
For two or more friends who move in within a month of each other to two different apartments, they will provide a 10% monthly fee discount for the first year of occupancy for each.
Villa South is also introducing an independent living pricing option for the first time.
Independent seniors who do not need regular assistance with activities of daily living can qualify for an independent living price discount while still enjoying the support of meals, housekeeping, activities, entertainment, and transportation provided in this country club area location.
Contact Villa South Assisted Living at 361-991-3252 for additional details.
Learn more about Assisted Living Options, and The Villas
The Villas is a good fit for many families because their pricing is among the most affordable in Corpus and the quality of care and staff is top-notch. With a track record of consistent operations and a long-tenured staff, The Villas gives families the confidence and trust you're looking for.
The Villas have simple fixed prices that make it easy for you to plan your budget and avoid complex point systems or month-end upcharges.
At a time of increasing costs, this helps retain some of the valuable members of the Villa South community who might not otherwise be able to afford the future increases in costs of care in the next five years.
Villa South is located in the Country Club area of Corpus at 4834 Yorktown Blvd, beside St John the Baptist church.
Villa Northwest is located in the Annaville area at 2822 Robby Street, tucked between Leopard St. and McKinzie Rd.
To learn more or visit the community, call Patricia Torres from Villa South at 361-991-3252 or Tabetha Garcia from Villa Northwest at 361-242-9446, to schedule a visit.  To receive a free brochure you can click here, or visit www.VillaAssistedLiving.com.
We'd love to show you around! Schedule a tour and a free assessment.
Villa of Corpus Christi is a friendly place!